Attack of the Giant Mutant Lizard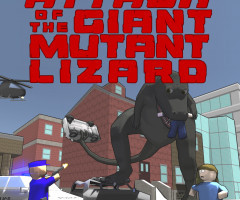 Control a giant mutant lizard to eat people, stomp cars, and throw things with your mutant tail which has claws for some reason. Spend points on upgrades and new abilities and try to survive an increasingly deadly hail of bullets.
You can find an early playable demo at GameJolt.
Also listed on:
store.steampowered.com/app/590840/Attack_of_the_Giant_Mutant_Lizard
gameskeys.net/product/attack-of-the-giant-mutant-lizard
Latest Article
I have decided to officially release this game today, and I wanted to take some time to say a few things about the game.
---
Originally Posted: Feb 5, 2017 at IndieDB
Toon Shading, Steam, and a New Gameplay Video
I haven't had a whole lot of time to work on this recently, but this weekend I spent some time setting up my app for Steam. Taking screenshots and recording gameplay footage. I also managed to fix a couple bugs because I can't seem to get through a gameplay video without finding something wrong. Here's my newest gameplay video showing how the game looks with the materials using a toon shader.
I want to spend the next couple weekends on development only, so I don't expect to post another article this month.
---
---