Attack of the Giant Mutant Lizard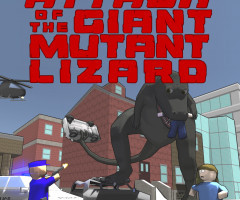 Control a giant mutant lizard to eat people, stomp cars, and throw things with your mutant tail which has claws for some reason. Spend points on upgrades and new abilities and try to survive an increasingly deadly hail of bullets.
You can find an early playable demo at GameJolt.
Also listed on:
store.steampowered.com/app/590840/Attack_of_the_Giant_Mutant_Lizard
gameskeys.net/product/attack-of-the-giant-mutant-lizard
Latest Article
I have decided to officially release this game today, and I wanted to take some time to say a few things about the game.
---
Originally Posted: Mar 4, 2017 at IndieDB
Cutscene Animation and a Funny Lesson About Sound Effects Packs
I spent the past few weekends designing, animating, and editing a new action-packed cutscene (See video at the bottom of this entry). It's a time-consuming process, at least for me it is. The cutscene will be used as a one-way transition from one scene to another scene which I still need to design (Not looking forward to that. I hate doing level design.).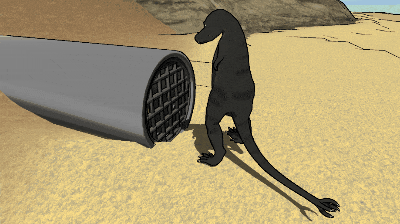 I also spent some time looking for better sound effects to use. In particular, I wanted to replace the monster sounds with a good set of clips, preferably ones that offer a variety sounds for all the different actions, yet still sound like they come from the same creature. And while looking for better monster sounds, I learned something interesting… Did you know that, according to people who charge too much for sound effects packs, that a dragon breathing is supposed to sound like a slowed-down recording of loud, wet flatulence? Who would have guessed? That lesson cost me about $28.
Anyway, here's a part of the cutscene it took way too long long to make. Now I'll move on to make the next level and try to come up with some ideas about how to end the game. That's right. I'm just making this all up as I go.
---
---