Attack of the Giant Mutant Lizard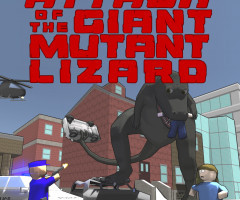 Control a giant mutant lizard to eat people, stomp cars, and throw things with your mutant tail which has claws for some reason. Spend points on upgrades and new abilities and try to survive an increasingly deadly hail of bullets.
You can find an early playable demo at GameJolt.
Also listed on:
store.steampowered.com/app/590840/Attack_of_the_Giant_Mutant_Lizard
gameskeys.net/product/attack-of-the-giant-mutant-lizard
Latest Article
I have decided to officially release this game today, and I wanted to take some time to say a few things about the game.
---
Originally Posted: Oct 15, 2016 on IndieDB
Update 2016-10-15
Hey, everyone. Just a quick update:
I added a new enemy type to the demo.

Actually, I made the tank well over a year ago, but I only recently got around to solving some of the problems with it. A tank will be able to spawn after four or five helicopters are destroyed, so you might not even last long enough to see one.
Oh, I almost forgot… I added this to Steam Greenlight concepts section. Since it's only added as a concept, the votes don't count, but please do leave feedback.
For those of you with Android phones, you can help me test the mobile version by clicking this happy little hyperlink right here. Please let me know how it works on your device.
---
---