Attack of the Giant Mutant Lizard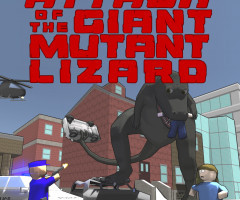 Control a giant mutant lizard to eat people, stomp cars, and throw things with your mutant tail which has claws for some reason. Spend points on upgrades and new abilities and try to survive an increasingly deadly hail of bullets.
You can find an early playable demo at GameJolt.
Also listed on:
store.steampowered.com/app/590840/Attack_of_the_Giant_Mutant_Lizard
gameskeys.net/product/attack-of-the-giant-mutant-lizard
Latest Article
I have decided to officially release this game today, and I wanted to take some time to say a few things about the game.
---
Originally Posted: Aug 20, 2016 at IndieDB
Searching for Sounds
Hey! Quick update for anyone interested — I'm in the process of adding audio, which is something I've been completely neglecting until about last week. I'm hoping to be able to put together a small playable build soon, hopefully within two or three weeks, depending on how much spare time I can find between my job and annoying habit of falling asleep every night.
I'm looking for good sound effects, and I've already found a couple, and even have a few of my own. I bought a few small sound collections from Unity's asset store as well, but if anyone reading this knows of some good clips, I'm happy to hear suggestions, especially for the screams and such (unless you're all okay with all the people in my game emitting the Wilhelm scream). I haven't even begun looking for music, and I have no idea what kind of music, if any, would be a good fit.
Any suggestions?
---
---