Attack of the Giant Mutant Lizard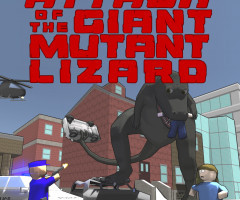 Control a giant mutant lizard to eat people, stomp cars, and throw things with your mutant tail which has claws for some reason. Spend points on upgrades and new abilities and try to survive an increasingly deadly hail of bullets.
You can find an early playable demo at GameJolt.
In case anyone's interested in testing the Android version (decent phone recommended -- 4.1 and up required), here is a thing you may want to click on. I'm interested in seeing what devices have an acceptable frame rate as well as any other problems that pop up.
Latest Article
It's been over 7 months since my last update. I should probably write a few things about what I've been up to.
---
Articles
---
Jan, 1st 2018
Update 2018-01-01
It's been a while since the last time I posted an update for this game, so I thought I should take some time to talk about what I've been doing since then before people start to assume I simply quit or went into a coma or something.
I made a new level about 8 months ago that I haven't really said anything about yet. It's a small beach/boardwalk area.
Here's a screenshot: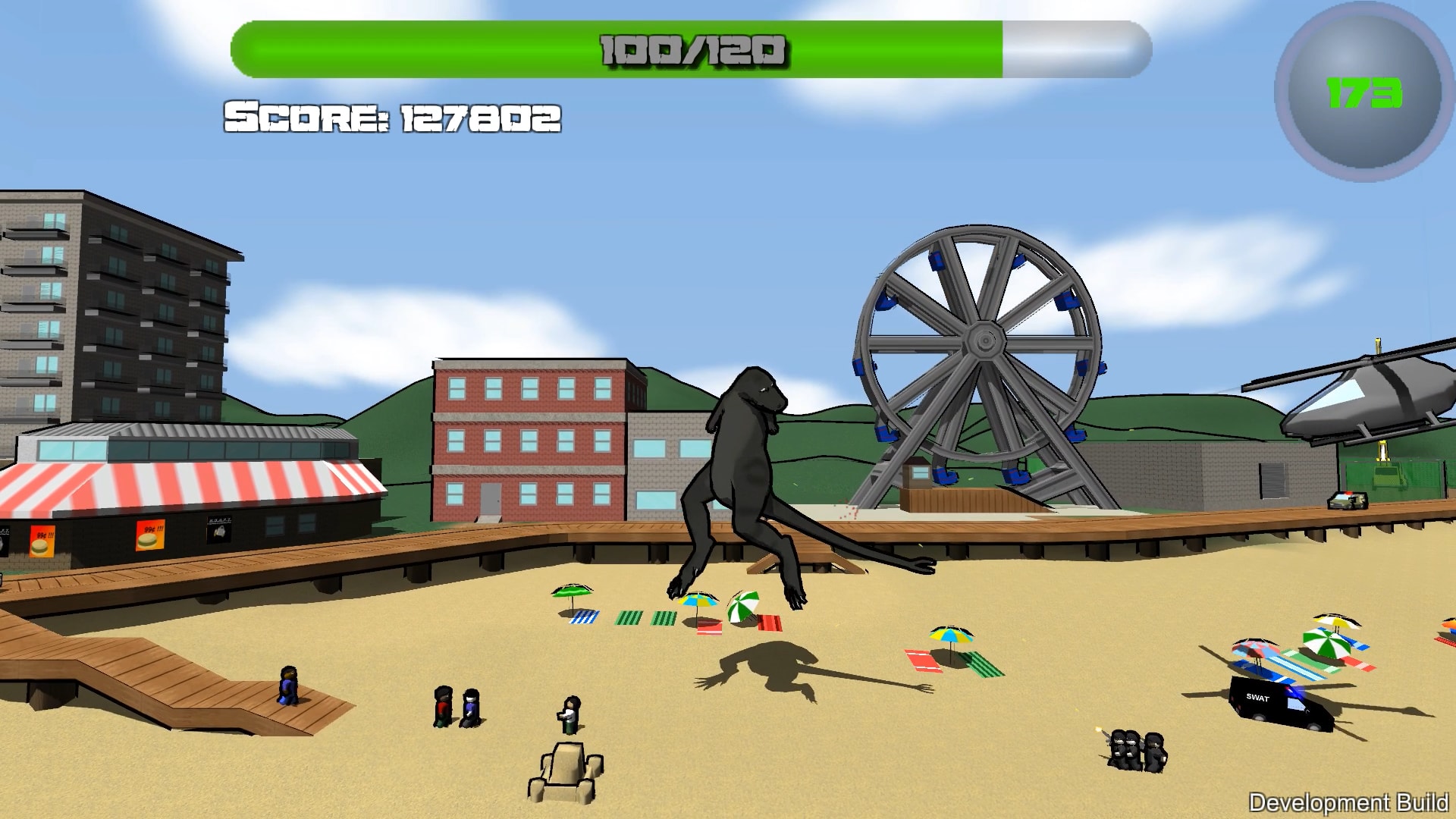 And since I have a beach, I also needed to add elephant seals (It would be crazy not to!).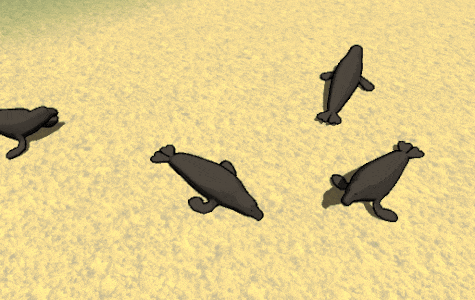 During the summer I took a break from developing this for a few weeks. Instead, I got addicted to playing Dwarf Fortress (again) spent a couple days developing my new website, medicatedgames.com, where people can maybe post comments, get updates, and report bugs. I also formed my own LLC, which I hope was a good idea because it kind of feels like I made a big mistake for some reason.
Back to the game though -- I added the ability to select story mode or free-play mode when starting the game. Story mode lets you restart from checkpoints. I've been working on a couple achievements for the Steam version, and now the game records your high score and some other stats for story and free-play modes. I was also working on adding a new monster for free-play mode, but I'll save that for a future article.
Another thing that's different now is the way the character accelerates when running, and the pose used for jumping forward. Previously, if you got a couple speed upgrades, the character would move at full speed as soon as you pressed the button.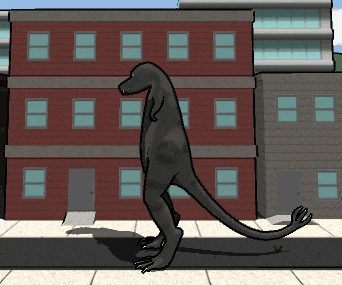 Lastly, I updated the demo, but so far I only have the Windows version ready (the Linux version got horribly screwed up and I didn't even test the Mac version yet). [EDIT: I fixed the problem that caused the error on Linux and Mac. But, seeing what the error was, I'm now baffled about how the game ever worked in the first place.] I upgraded the project to a newer version of Unity from version 4.6, so you can expect to see some new bugs.
This time the demo isn't just that one little demo scene. It has the first part of the story mode (don't get too excited, it's not that great). If you've played the Android version, you may have already seen it.
Windows:


Linux:


Mac:


---
0 Comments
---
Other Articles
Hey everybody! I'm back with a shiny new version of the demo featuring target practice mode and a new ability to mess around with.
---
This entry is about a new cutscene I made, and also about why I hate searching for sound effects.
---
Thanks for helping my game get Greenlit! Here's a gameplay video showing what the game looks like with a toon shader on everything.
---
It's been about a month since my last post, so I thought I should take some time to say a few things about my game and recent developments before people start to think I've gone missing.
---
I'm updating the demo with some of the latest improvements, and I'm also working on improving the UI graphics.
---
Hey, everyone -- I just put my game on Greenlight, so go put on your voting pants and get ready to click any and all buttons that have the word "Yes" on them!
---
Hello, people. It's been a relatively productive holiday weekend and I have some new stuff to show (I didn't update the demo though).
---
It's been a few weeks since my last update. Here's a summary of what I've been up to (Bug fixes, mostly. But there's a few new things to show too). Contains GIFs!
---
Updated the demo with a new enemy type. I also added the project to Steam Greenlight as a concept and I'm looking for feedback.
---
A link to opt-in for testing the mobile version from Google Play and a few words about the other bits I've been working on.
---
Added a couple improvements including two new upgrade types and new button graphics for the upgrades menu.
---
I just released the first playable build. Includes a single scene made just for the demo, with a brief tutorial at the start.
---
A brief update about my progress so far, and my search for audio clips that don't make me cringe when I listen to them.
---
Control a giant mutant lizard to eat people, stomp cars, and throw things with your mutant tail which has claws for some reason.
---
Originally Posted: Aug 20, 2016 at IndieDB
Searching for Sounds
Hey! Quick update for anyone interested — I'm in the process of adding audio, which is something I've been completely neglecting until about last week. I'm hoping to be able to put together a small playable build soon, hopefully within two or three weeks, depending on how much spare time I can find between my job and annoying habit of falling asleep every night.
I'm looking for good sound effects, and I've already found a couple, and even have a few of my own. I bought a few small sound collections from Unity's asset store as well, but if anyone reading this knows of some good clips, I'm happy to hear suggestions, especially for the screams and such (unless you're all okay with all the people in my game emitting the Wilhelm scream). I haven't even begun looking for music, and I have no idea what kind of music, if any, would be a good fit.
Any suggestions?
---
---
#
Type
Title
Submitted
Comments
Status
9-002

Suggestion

ödla
Mar, 30th 2018 at 17:04
by Guest
1

Closed
---