Attack of the Giant Mutant Lizard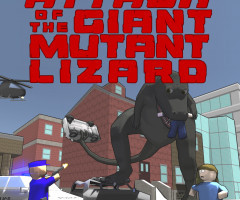 Control a giant mutant lizard to eat people, stomp cars, and throw things with your mutant tail which has claws for some reason. Spend points on upgrades and new abilities and try to survive an increasingly deadly hail of bullets.
You can find an early playable demo at GameJolt.
Also listed on:
store.steampowered.com/app/590840/Attack_of_the_Giant_Mutant_Lizard
gameskeys.net/product/attack-of-the-giant-mutant-lizard
Latest Article
I have decided to officially release this game today, and I wanted to take some time to say a few things about the game.
---
Originally Posted: Aug 11, 2016 at IndieDB
Demo Released
Hi, everybody! It's been a relatively productive couple of weeks and I'm happy to announce the first build that can (hopefully) be played by someone who isn't me.
This is a development build, so if there are errors, you should be able to see them pop up in the corner. Be a good person and let me know if something breaks. I may upload another version without the error reporting in case it becomes a nuisance.
At the moment, I just have the Windows and Linux versions. Hopefully a Mac version will be coming too, though I don't have a Mac to test it with. Edit: I just added a build for Mac. I had my brother test it on his and he told me it worked. So let me know if it doesn't, so I can punch him for lying to me.
---
---