Attack of the Giant Mutant Lizard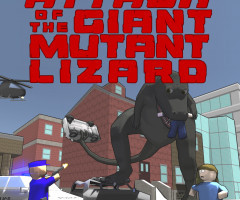 Control a giant mutant lizard to eat people, stomp cars, and throw things with your mutant tail which has claws for some reason. Spend points on upgrades and new abilities and try to survive an increasingly deadly hail of bullets.
You can find an early playable demo at GameJolt.
Also listed on:
store.steampowered.com/app/590840/Attack_of_the_Giant_Mutant_Lizard
gameskeys.net/product/attack-of-the-giant-mutant-lizard
Latest Article
I have decided to officially release this game today, and I wanted to take some time to say a few things about the game.
---
Originally Posted: Nov 21, 2016 at IndieDB
Update 2016-11-20
Well, it's been a while since the last time I posted an update, and I had a couple helpful comments and suggestions, and a couple changes based on some of them can be seen in the latest version of the demo. You can get the latest version here: Windows | Mac | Linux
But before I get into the details, I wanted to put a reminder here about the Android alpha version and my page in Steam Greenlight Concepts.
CLICK IT, YOU FOOLS!
Now that that's out of the way...
I replaced some of the sounds with higer quality ones and I recorded a new game play video with audio.
Bug Fixes / Enhancements (in no particular order):


The volume slider in the options menu now beeps when changing the volume.


Made some improvements to the visual effects. More blood splatters. Improved appearance of explosions. I was working on adding footprints whenever you stomp on the ground, but it didn't look good, so I'll hold off on that one for now.


I slightly altered the way the cops behave to make it less likely for them to stay out of reach. It's not perfect, but it's a start.


I changed the tanks so that they can detect if they are running into a wall and turn left or right to try to go around.


I think I fixed the bug where the stomp attack would occasionally freeze the monster in place. Let me know if you see it happen again.


I enabled the 16:9 aspect ratio after fixing some UI elements. No more vertical borders!


There's probably a bunch of things I'm forgetting... I'm sure it's not important.


New Stuff:
I have new audio clips for the police sirens and for the tank's engine. The tank also plays an additional sound while moving. Speaking of tanks, I made some modifications to allow the tanks to run over things instead of just pushing them out of the way, or rolling over like a turtle.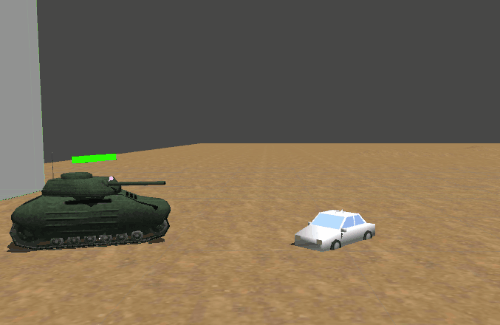 So realistic!
I also did a bit of work on things that aren't in the demo. Here is a cut scene that is played before you reach the last area: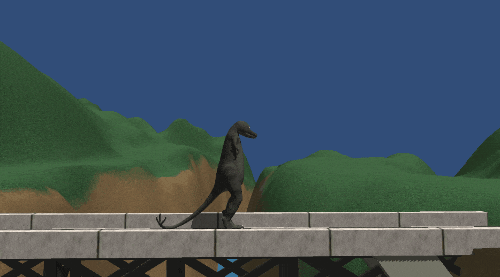 There's plenty of work left to do, and not a lot of spare time, so it'll likely be a while before I upload a new version of the demo. Fortunately, there's a holiday coming up this week, so hopefully I can put the two extra days to good use.
---
---