Attack of the Giant Mutant Lizard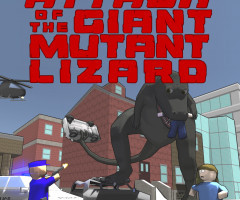 Control a giant mutant lizard to eat people, stomp cars, and throw things with your mutant tail which has claws for some reason. Spend points on upgrades and new abilities and try to survive an increasingly deadly hail of bullets.
You can find an early playable demo at GameJolt.
Also listed on:
store.steampowered.com/app/590840/Attack_of_the_Giant_Mutant_Lizard
gameskeys.net/product/attack-of-the-giant-mutant-lizard
Latest Article
I have decided to officially release this game today, and I wanted to take some time to say a few things about the game.
---
Apr, 28th 2019
Localization: Help Me Translate!
Help Me Translate!
Are you fluent in both English and another language?
If you answered "No", then we have at least one thing in common and we should hang out sometime. (I'm joking. Don't come near me.)
But if you answered "Yes", then you may be able to help me make my game support multiple languages.
I recently modified my game to enable me to add translated versions of all the text in the game. All that's needed is the translations, and as all the confusing international comments on Google Play I've read so far have proven, Google Translate is not exactly reliable when it comes to translating things correctly.
If you are interested in helping to translate even just some of the text, contact me at support@medicatedgames.com.
---
---