Attack of the Giant Mutant Lizard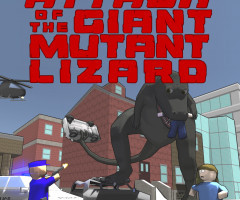 Control a giant mutant lizard to eat people, stomp cars, and throw things with your mutant tail which has claws for some reason. Spend points on upgrades and new abilities and try to survive an increasingly deadly hail of bullets.
You can find an early playable demo at GameJolt.
In case anyone's interested in testing the Android version (decent phone recommended -- 4.1 and up required), here is a thing you may want to click on. I'm interested in seeing what devices have an acceptable frame rate as well as any other problems that pop up.
Latest Article
I have decided to officially release this game today, and I wanted to take some time to say a few things about the game.
---
Originally Posted: Oct 2, 2016 at IndieDB
Mobile Version Alpha Testing and Other News
The mobile version is now available for open alpha testing on Google Play.
Here's the link to opt-in to become a tester: https://play.google.com/apps/testing/com.extramedicated.mutantlizard
So what else is new?
I've also spent some time working on a short intro scene to show the backstory, and I did some development on AI for a boss fight.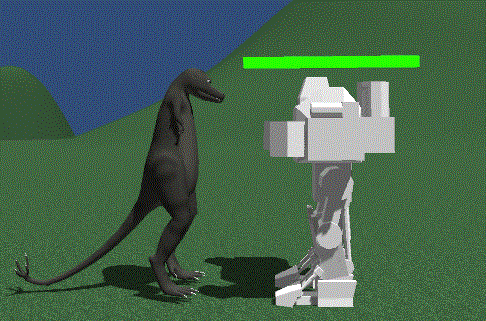 ---
---
#
Type
Title
Submitted
Comments
Status
9-010

Suggestion

A new upgrade
Aug, 14th 2020 at 11:14
by Guest
0

Open

9-011

Suggestion

A new upgrade
Aug, 14th 2020 at 11:14
by Guest
0

Open

9-008

Suggestion

Can you make a new map like swamp after you finish the map with the snake monster?
Jun, 17th 2020 at 08:06
by Guest
0

Open

9-007

Suggestion

How about at the end you make a bonus round that is sort of like a flashback so you can see where the monster came from, and rampage through the "nomad" times.
Apr, 13th 2020 at 03:05
by Guest
1

Open

9-007

Bug

I play on a computer but it won't let me move with wasd.
Apr, 9th 2020 at 01:24
by Guest
1

Open

9-011

Bug

Feemiadlefazive zrjdm
Apr, 9th 2020 at 00:14
by Guest
0

Open

9-004

Suggestion

Will on the new update 0.7.5 be only bears as wildlife?(by Spetnaz SRL)
Feb, 3rd 2020 at 11:49
by Guest
2

Closed

9-003

Suggestion

What is the new game going to be called attack of the giant mutant alligator
Jan, 4th 2020 at 07:01
by Guest
0

Closed

9-002

Suggestion

When is update or should I say 0. 7.5 Dev the giant mutant lizard are you going to make it so that this update will come out in 2020 perhaps if not then probably during Christmas
Dec, 17th 2019 at 21:25
by Guest
1

Closed

9-002

Suggestion

ödla
Mar, 30th 2018 at 17:04
by Guest
1

Closed
---